One questioned that bugged me earlier this year was how to set my employee up for eBay access. For some reason, eBay isn't even that helpful in this! I figured why not just give you guys the answer…
To give your employee or virtual assistant access to your eBay account do the following steps:
Go to "Seller Hub" or "My eBay"
Scroll till you see "Selling Tools" 
Select "Manage store"
Click "Permissions" on left-hand side
Add the employee as user
Want to watch the video walkthrough instead? I created this quick 3-minute screencast to show you how to give your employee or virtual assistant access to your eBay store account!
Affiliate Disclosure; This post contains affiliate links, which at no cost to you pay us a small commission. We love you & thank you for the support! Sebby & Shy
---
What the heck is a virtual assistant?
Anyone that does something for you online or from a remote area is a virtual assistant.
I'm not going to overcomplicate this just in the name of SEO & fluffing this post with more words.
These are people you hire that live in the US, or maybe abroad! Many freelancers are overseas workers, but it isn't as bad as calling a help center, I swear!
Now, before we go any further, just like anything else in life there are un-qualified human beings out there offering their services. I have had 1 bad situation with someone in India & one with a freelancer I met in person in Utah.
The guy in India I paid $1900 to create an app on upwork.com, it was the worst experience I have EVER had with a freelancer.
We won't get into that here, that is for a later blog post. I just wanted to make this clear, be really cautious when hiring people, there are idiots everywhere!
On to the good stuff…
---
Why we needed a virtual assistant
So if you are new here, Hi! 
My wife Shyanne & I sell used clothes for a full time living from home. Our goal in life is to be the best possible parents & to raise a family together at home.
So many good things happen because we started a small side hustle years ago. Please do the same, just try to do anything extra on the side to make you some cash!

Use this Free Course we created to get started!

Make some money first & then pay us later.
We have this HUNGER for wealth like we really want to be rich. Not to buy fancy things (well a few…), but we treasure freedom more than anyone will ever understand.
It is all we are after, no loyalties & absolute freedom. The first step in that process was to get someone to do my eBay listings.
You may laugh & it may sound stupid, but that is how the rich get rich. They hire people to do shit for them that they don't need to be doing.
I pay Loreto $5 an hour and he pretty much does everything I hate about eBay.
Sadly, he is in the Philippines & cannot take over every mundane task that comes with being a reseller.
But, he can take over many things… those being:
Editing photos for eBay
Creating listings from spreadsheet data
Creating shipping labels remotely
Updating sales spreadsheets to track $$$
Researching brands & categories for sales data
Let's be real here, those are all awful things, but they are part of running a business. We did these things for years, and so should you! Grinding is important.
What is more important though is knowing when to step back…
We knew it was time because our goals had shifted. No longer did we want a large warehouse with tons of inventory… instead the plan is to have a business that can fit into a backpack.
To create that next step in our lives, I needed time.
Look, I'm the thrift king… I am really great at thrift shopping & can do it quickly. Where I fail is actually getting things processed and listed. This is where someone like Loreto is perfect for me… he doesn't mind doing listings!
No longer do I have to look at sales and input them on a spreadsheet or go through hundreds of listings a week! The amount of time he has saved me is worth far more than $5 an hour…
What I do now instead of mundane eBay tasks:
More family time with son & wife
Work on growing Resell Junkie
Focus on social media & networking
Doing listings is important, but that doesn't mean you have to do it… let's talk about where we found Loreto!
---
Where can you hire a virtual assistant?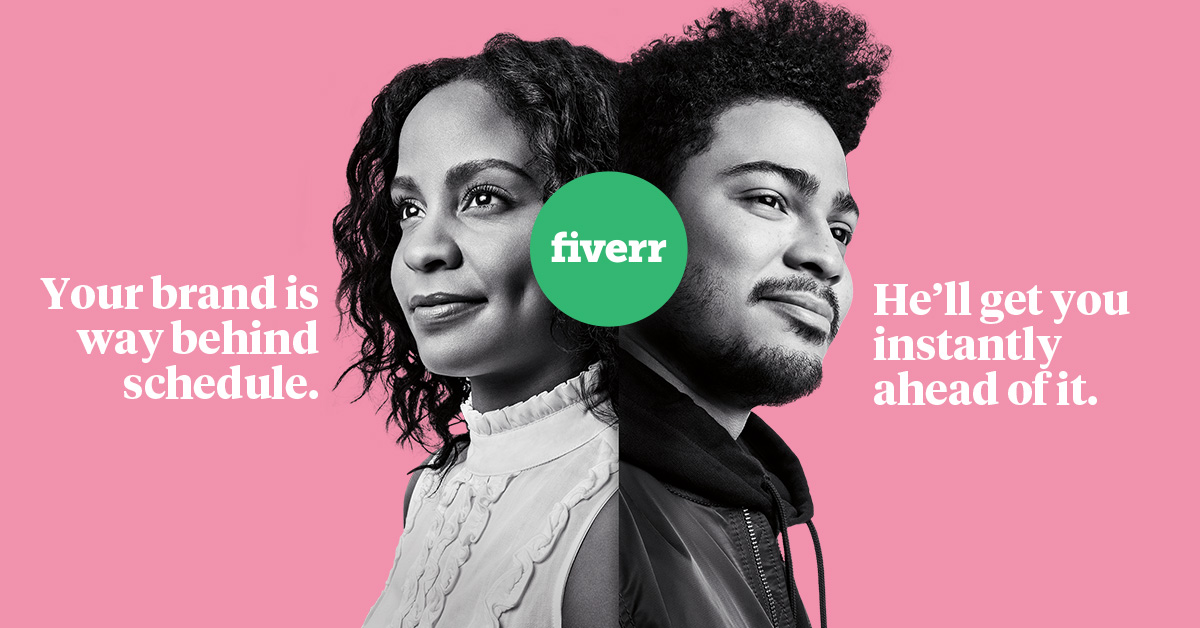 Using places like Fiverr.com & Upwork.com it is now SO easy to find a freelancer or virtual assistant! (affiliate links)
Though we hired Loreto on Upwork, Fiverr is just as great, if not better for certain types of freelancers
If you have never used either of these places, think of these as marketplaces for services.
Some people are great at logo design, others at creating business plans, & some just want to enter data! Whatever you need, you will find someone willing to do it on Fiverr
Loreto has been with us now via Upwork for a bit now and it has been a great experience. No issues, but I also got insanely lucky & found the best assistant ever!
These services are great because they help you set a contract. Upwork is awesome because you can set the hourly rate and also how many hours per week. Just a really easy way to track work & to not have to shell out tons of money upfront.
Upwork has some really great people on there, but its a bit too corporate feeling for me.
Compare this search for the term "design" on Upwork… really not that great if you wanna get the creative juices flowing.
On the other hand…
This is the same search term on Fiverr
I LOVE this so much more. It is just how my brain works.
Fiverr Is a bit more wild & free. Both design wise of the site & just the general services offered. The crazy selection of stuff is honestly overwhelming.
If you can't find an artist on there, you're the problem.
---
Best tips when hiring a virtual assistant
We are gonna keep this super simple & to the point, just like you should with your virtual assistant! 
Top tips for hiring & training virtual assistant!
Be clear – no slang, stop being American & realize that not everyone uses the same vocabulary. Be as literal as possible. Do not beat around the bush nor assume that the virtual assistant will read your mind, they won't.
Set standards – If you are a passive person, go read a book and change that about yourself. You need to set the standards for what you expect out of this person. Our number one rule in life is to be nice, but to also handle business.
Make it easy – I fail at this one sometimes, but I try my hardest to make everyone's jobs easier. What this means for your VA is that you set them up for success. Create a system & a clear job outline before you hire someone!
Ask them how YOU can improve – This is SO important. You may suck as a boss, but they may be scared to say anything cause they want that 5 bucks an hour! Ask your virtual assistant if you are communicating clearly & if there is anything you can do to make their lives easier in general while working for you
Create a system together – Give them skin in the game & ask THEM to create a system for day to day activities. Sure, you may have to tweak some things, but giving people accountability is incredibly important when it comes to productivity.
---
How hiring a virtual assistant has helped our eBay business 
Have we seen tremendous growth? Nope, not at all. But what we have seen is a steady trickle of sales because we are listing way more often.
Currently, we hover around 1000 active listings on our eBay store. Loreto constantly doing listings is so helpful for the eBay algorithm & for our wallet.
The fact that I would put listings off would literally impact our income. I preach eBay & selling online, but I really hate doing repetitive work. It just isn't in me.
Having him as an employee makes me accountable. Now, I have to process items quickly so he actually has something to do & can feed his family.
This post goes even more into Loreto and hiring people for random tasks online!
If you want to start your online side hustle today, just sign up for our Free Course & make you some money today!
---